Health insurance is vital (Jul 07, 2010)
Deputy Prime Minister Nguyen Thien Nhan has said the Government was committed to supporting health, social insurance and finance sectors to complete health insurance policies.
Nhan was speaking at a meeting yesterday to mark Health Insurance Day.
"Education and health insurance are two of the most important social security areas," he said.
The Health Insurance ...
Read more...
Insurance cardholders still face obstacles (Jul 06, 2010)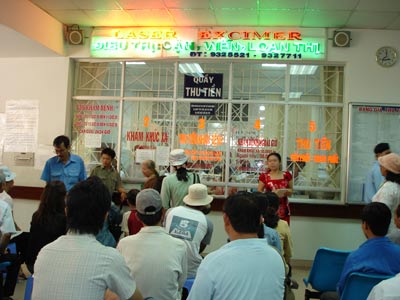 One year after the implementation of the new medical insurance, cardholders are still encountering annoyance.
Residents who registered for insurance cards at the local administration were told to have certificates of agreement from hospitals, said Dr. Ton That Quynh Trung from the general medical clinic Phuoc An on Su Van Hanh street in district 10.

Dr. Trung ...
Read more...
Cholera returns to northern region (Jul 04,2010)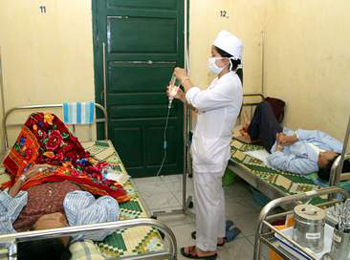 Cholera has broken out again in Vietnam's northern region, the Department of Preventive Medicine said July 3.
The Central Hospital for Tropical Diseases said it is now treating 36 people infected with acute diarrhea, with 18 of them having tested positive for cholera.
Hospital director Dr Nguyen Van Kinh said that most of the patients are from inner Hanoi. Two ...
Read more...
Use of domestic drugs encouraged (June 28, 2010)
Only a small portion of the medicine used in hospitals is produced in Viet Nam. Deputy Health Minister Cao Minh Quang spoke with Tin Tuc (News) newspaper about the issue
Why is it difficult to get local hospitals to use domestic pharmaceuticals?
In my opinion, you have to consider people's personal habits when it comes to purchasing ...
Read more...
ADB loans to help improve rural healthcare (June 28, 2010)
MANILA — The Asian Development Bank yesterday approved loans of US$60 million for the Viet Nam Health Human Resources Sector Development Programme to help the country improve its health services, particularly in poor, remote communities which lack skilled workers and quality health facilities.
The programme is cofinanced with an $11 million grant from the government of ...
Read more...
Dengue fever hotline for must run around clock: MOH (June 28,2010)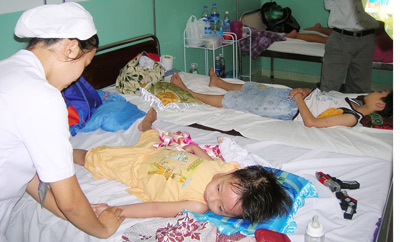 The Ministry of Health June 27 ordered its subdivisions to maintain a hotline concerning dengue fever, to combat the disease that is on an upward trend.
Municipal and provincial departments of health were asked to keep in touch with hospitals the National Hospital of Tropical Diseases in Hanoi, the National hospital for Children, Hue Hospital, the Hospital of Tropical ...
Read more...
Vietnam's first heart transplantation succeeds (June 24, 2010)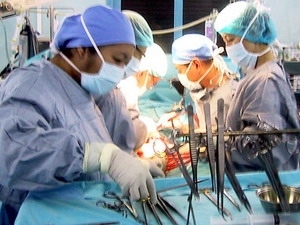 The Vietnam Military Medical University said its doctors have successfully performed the first heart transplantation in Vietnam.
The operation, lasting nearly two hours, gave Bui Van Nam, 48, from the northern province of Thai Binh, who has suffered from final-stage heart failure, a working heart taken from a brain dead donor.
After the transplantation, which was ...
Read more...
Access to essential medicines far from being achieved: WHO (June 24,2010)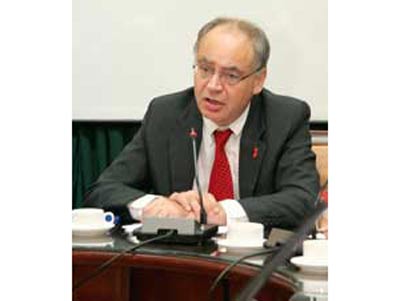 The government has consistently given pharmaceutical issues top priority within its development agenda. However, access to essential medicines, especially for the poor has not yet become a reality. Ways to improve the situation were discussed at a meeting held on June 23 in Hanoi titled: "Strengthen the capability of accessing essential medicines." (Dr. Jean-Marc Olivé, ...
Read more...
Doctor: Over 73 percent of cancer patients dead (June 20,2010)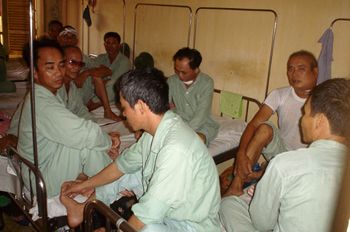 The fatal toll among cancer patients in Vietnam has increased to 73.5 percent, Associate Professor Dr Mai Trong Khoa, deputy director of Hanoi-based Bach Mai Hospital said June 19.
The disease treatment has found more difficult and taken more time as patients usually late discover that they are infected with the disease, when it has come to metastasis phase, he said.
Dr. ...
Read more...
Free breast cancer screening launched for poor women (June 17, 2010)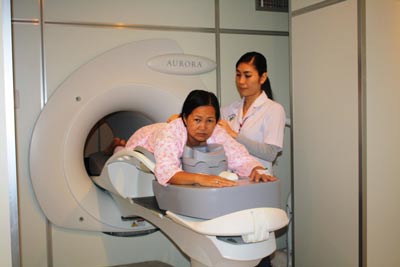 A program that will provide free MRI screenings for the early detection of breast cancer to meager-income women, was launched in Ho Chi Minh City, said the Hoan My Clinic.

The program is sponsored by the Charity Fund named Dr. Nguyen Huu Tung, Mr. Allen Yu and Taipei Medical University, and Hoan My Breast Care Center (Hoan My Clinic). It began in June 10.
The ...
Read more...
Experts highlight social cost of HIV (June 16, 2010)
The Ambassadors/Heads of Agency Informal HIV Coordination Group wrote to Minister of Planning and Investment Vo Hong Phuc to convey their fears concerning Viet Nam's fight against HIV.
We, the co-chairs, are writing on behalf of the Ambassadors/Heads of Agency Informal HIV Coordination Group in regards to the Socio-Economic Development Plan (SEDP) 2011-2015. We commend ...
Read more...
Vaccination plan set to go despite lack of outbreaks (June 16, 2010)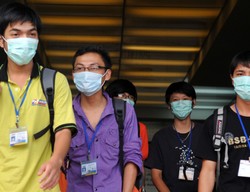 No new influenza A (H1N1) swine flu patients have been reported in Vietnam for more than one month, but the Vietnamese Ministry of Health is still planning to implement a vaccination plan for vulnerable people including medical workers and pregnant women.
Deputy Director of the Department of Preventive Medicine Nguyen Van Binh said only one person in the central province ...
Read more...
Dengue on the rise in Mekong Delta (June 14, 2010)
MEKONG DELTA — A significant increase in the number of patients hospitalised for dengue fever was reported in the Mekong Delta region two months prior to the virus' peak season, health experts have said.
Statistics from An Giang Province's Preventive Medicine Centre showed that as of yesterday, more than 1,180 people have contracted the disease, including three ...
Read more...
Chemical causes eye infections (June 10, 2010)
HCM CITY — The Ministry of Health has ordered hospitals and clinics to stop using a tissue-staining agent which is suspected to have infected at least 30 eye-surgery patients in southern Viet Nam.
It has also asked Viet My Mechanical Equipment Company in HCM City's Go Vap District, which imports and distributes Trypan Blue block SV9025, to pull it out of the market.
Indian ...
Read more...
'Take health action or be fined' decree warns (June 08, 2010)
HA NOI — Violations in the fields of preventive medicine and environmental protection and a lack of action on HIV/AIDS campaigning will lead to warnings and fines, according to the draft decree written by the Ministry of Health.
The decree will come into effect from August 1, after amendments.
Ministers, heads of government organisations and chairmen of provincial, ...
Read more...
US supports military AIDS plan (June 08, 2010)
The US has helped Viet Nam set up a new HIV/AIDS programme at Hospital 87 in Nha Trang as part of its expanding support to the Vietnamese military medical system.
The programme, laun-ched on Wednesday, will provide safe blood products and voluntary counselling and testing services to both civilian and military populations from Khanh Hoa and neigh-bouring provinces.
It ...
Read more...
Plan to develop medicinal plants (June 04, 2010)
Deputy Prime Minister Nguyen Thien Nhan has asked the Ministry of Health to formulate a plan for developing and preserving precious herbs and other materials used for medicinal purposes.
He has also asked the ministry to estimate the use of domestic materials in the manufacture of medicines in the country.
The ministry should co-operate with relevant authorities ...
Read more...
Japan agency to help boost health services (June 02, 2010)
A project entitled "Improving Quality of Human Resource in Medical Service System" was signed yesterday by the Ministry of Health and the Japanese International Co-operation Agency (JICA).
The five-year project will start in June this year with a JICA grant of US$5.3 million pledged to focus on priority activities such as hospital management, treatment and hygiene standards.
Hospitals ...
Read more...
Free five-in-one vaccine for infants (June 02, 2010)
A free combined five-in-one vaccine programme for under one year-old children nation-wide started yesterday, said Trinh Quan Huan, Deputy Minister of Health.
The launch of the new five-in-one vaccine which inoculates children against diphtheria, whooping cough, tetanus, hepatitis B and Hib is part of the expanded national immunisation programme.
About 2.3 million ...
Read more...
Rare Vietnamese herbs on verge of extinction (June 01, 2010)
Vietnam used to export traditional medicines, from the 1060s-1970s, but it is now entirely dependent on imported materials to manufacture drugs. Meanwhile, some rare species of herbs have been on the edge of extinction due to brutal exploitation, the topic of discussion at a meeting on May 30 in the southern province of Binh Duong.
Deputy Prime Minister Nguyen Thien ...
Read more...